Updated: Apr 29, 2020
So you're engaged...Congratulations! Now all the feels and questions start. What type of venue do we want? What colors would work best? Bridesmaid Dresses? Favors? Centerpieces? The list goes on...and so does the price tag. Do I dare try to DIY?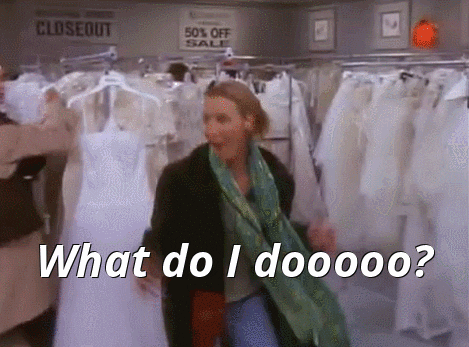 You may have heard, "Planning a wedding is a full-time job" and that's not false. A lot of work goes into creating that special day, so how do you find a balance? A great place to start is your story. Think about WHO your marrying, and WHY this day is special. Work from there to ensure that you don't forget what this momentous day is about: the sweet love and special bond formed between you and your fiance.
Now that that's settled it's important to gather your wedding team. Who wants to help with your special day? And who do you want in your bride tribe? Basically think back to the glorious days of myspace: who is in your top five? You want to be close because things can get real when it comes to the nitty-gritty of wedding planning.
After figuring out your wedding posse it's time to consider your budget. Be realistic: what is the most you want to spend? Excel is your friend in this process (reach out to Eliza for her expert budget tips to get you started). Costs can easily get out of hand and that defeats the purpose of your DIY.
The next step is to identify your strengths. This will help you to see where you can save money while still having high quality. Are you crafty and creative? Then you can probably envision the perfect centerpieces and all of the intricate details. Maybe you want to incorporate old books, antique lamps, or super chic lace...the ideas are flowing!
Have you ever baked a cake? If the answer is no...your wedding is not the day to test that out. Some things can't be DIY without ruining the quality of your day so these might be areas you should splurge a little cash.
No worries we know a highly skilled baker with over a decade of experience to rescue your cake skills! Michelle with Shell's Sweets creates beautiful masterpieces that make each bride's vision come to life. Want something other than cake? She also makes amazing cake pops, cupcakes, cookies, and other mini desserts. Michelle is sure to put her heart and soul into every edible work of art she creates!
In all this planning, don't forget your ultimate best friend...your Wedding Checklist. Below is just a few items to consider:
- Venue space
• This will likely need to be booked far in advance to secure your perfect date
- Invites • Save the dates (don't forget to do engagement photos first!), Invitations, etc.
- Catering
• Does your venue allow an outside caterer? What are the fees?
• If a family member is providing the food is there space on-site to prepare and keep things food safe?
- Does your venue allow you to provide your own bar?
• You can save money by providing the drinks and paying the venue corkage fee
- Decor • The venue may have some decor they allow you to use at no cost...have you asked?
• Do they provide linens?
- What does the bridal suite look like?
- Are you and your bridesmaids heading to the salon before the ceremony? Will the salon allow mimosas and snacks? (THIS.IS.IMPORTANT)
This isn't even a start to tackling that wedding checklist but no worries! We are here to help. Interested in a DIY but want expert advice? Buy our Expert Wedding Checklist here.
Lastly, DIY is a great way to take the financial stress out of the big day. Eliminate all other stress by having a wedding expert, and partner in crime by your side on your special day. Yes...I'm talking about me! I'm Eliza with Crafted Around You and I want to perfectly execute your DIY dream with my Day of Coordination. I'll provide expert advice while being sure you can sit back and relax while I bring your bridal vision to reality. Don't let your DIY die...have an expert by your side!
Happy planning!